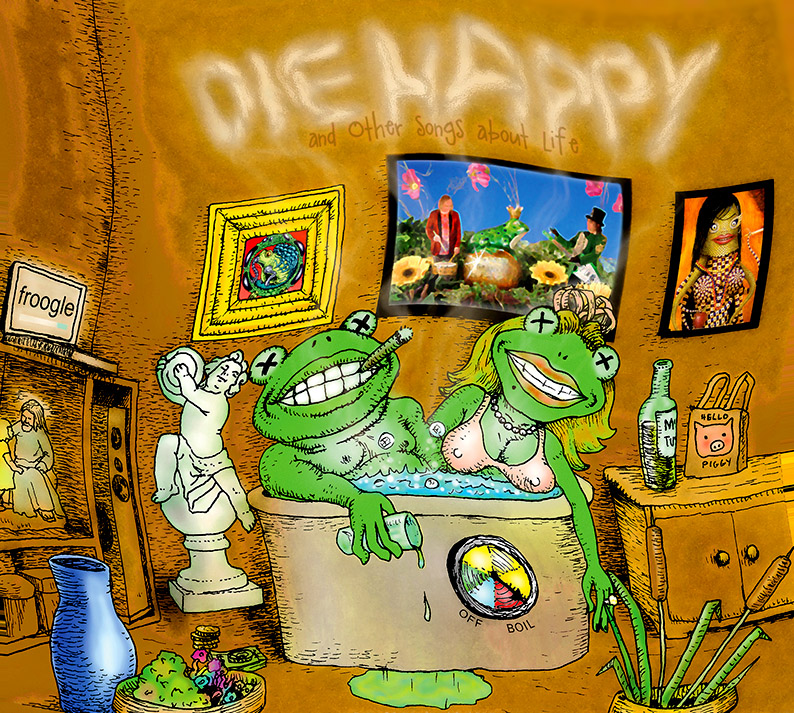 "Die Happy" by Green Sparkle Frog -- The 16 song CD -- Available Soon!

GERMS Floor Lamp Prototype, Version 2, November 16, 2011: Custom made floor lamp with stained glass lampshade, constructed from:
Steel, aluminum, wood, glass, pleather, polyethylene, hypoallergenic polyfiber, electrical fixture and CFL light bulb.
Shade designed by Jaime GERMS Zacarias, fabricated by Talma of Talma's Stained Glass
Lamp base designed and constructed by Tim K, based on artwork by GERMS.
Height: 50" - Width: 16" - Depth: 23".



Star Spangled Bummer, by Benedict Arnold & The Traitors - a 22 song CD, recorded 2001-2008.
Cover art by Jaime "GERMS" Zacarias.




Bird Brain #1
Altered digital photograph of actual bird dropping. Tim K, 2004.
Click image to enter the Freshwidow Gallery.


Benedict Arnold & The Traitors: Death Penalty For Pot, animation by BradFrostProductions.com.


Last update: February 9, 2013. The entire contents of www.freshwidow.com is ©Copyright 2013 Tim Kummerow.
No part of this site may be reproduced, by any means, without the express written consent of Tim Kummerow. Email.